Meant to provoke and inspire. Experience the best we have to offer and learn how we make lives better together.
Experience EHE is a week of events that highlight the core values of the College of Education and Human Ecology. We're pushing the boundaries to solve problems with bold purpose and informed resolve. And we do it by valuing a diversity of ideas – from visionaries hailing from big cities and small towns; from first-generation students and second-career dreamers; from people of all faiths, colors and genders.
---
Experience EHE Week opened with the annual Olivia J. Hooker Distinguished Diversity Lecture Series celebrating diverse individuals whose work and lives advance the call to justice.
Nikole Hannah-Jones, Pulitzer Prize-winning reporter covering racial injustice for The New York Times Magazine and creator of the landmark 1619 Project, presented a powerful keynote on history, race and democracy that speaks directly to our current moment.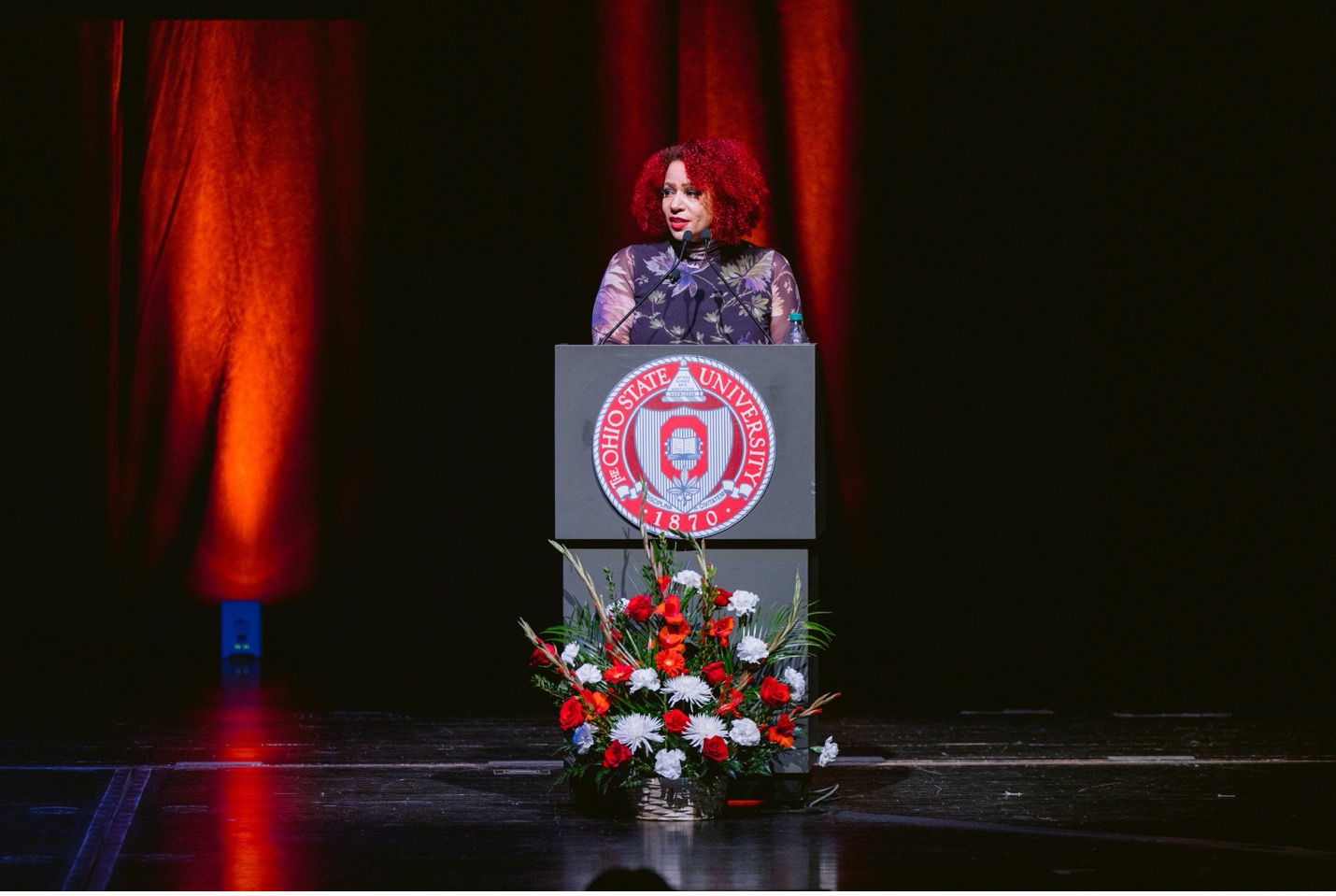 Drawing on ideas from The 1619 Project, Hannah-Jones focused on expanding our understanding of American history, highlighted the contributions of Black Americans and illuminated key moments of oppression, struggle and resistance. Hannah-Jones also explored the legacy of slavery in our cultural, political and legal institutions, and the way it continues to shape contemporary American life.
Hannah-Jones began the lecture by reading her essay "Justice" from The 1619 Project book. It describes another origin story of the United States, one that… "requires us to place Black Americans prominently in the role of democracy's defenders and perfecters," said Hannah-Jones. "Black people are not this nation's problem but its very heart … this is our national truth: America would not be America without the wealth from Black labor, without Black striving, Black ingenuity, Black resistance."
She spoke of forced inhumanities while reminding attendees that, in despite of all atrocities, Black Americans responded in deeply human ways. "We found joy, made families and laughed and loved just like anyone else." Hannah-Jones also touched on where she believes we are as a country, with the reckoning that began in 2020, and where we need to go in terms of reparations.
"If we seek to truly make this a transformative moment, if we are indeed serious about creating a more just society, we must go further – we must get to the root," she said. "Wealth, not simply securing equal rights, is the means to security in America."
Hannah-Jones reflected with Dean Don Pope-Davis during the dialogue portion of the lecture on her motivation to continue her work. "I never lack motivation. I feel blessed every day for what I do. When you study the history of Black Americans, it is an intensely humbling experience," she said.
"I feel like I have to live my life every day to repay the debt of all the ancestors who had dreams just as big as ours, but they didn't live in a society that they could realize that."
"What happened in 1619, the tragic origin story unveiled throughout this project, set in motion the defining struggle of American life, between freedom and oppression, equality and racism, we must confront the 400-year war between these opposing forces, and then we must make a choice about which America we want to build tomorrow. A truly great country does not ignore or excuse its sins. It confronts them, then works to make them right."
Prior to the lecture, Experience EHE Week featured the Equity and Justice Read Around Art Reception hosted by the college's Office of Equity Diversity and Global Engagement (EDGE). The event featured its Equity and Justice Read Around partnership with Champion Middle School, Columbus City Schools.
The Read Around partnership provided the school with copies of The 1619 Project: Born on the Water, the children's book adaptation, co-authored by Nikole Hannah-Jones and Renée Watson. The school's seventh graders then participated in a literacy and arts project based on the book in their English and art classes.
"This night encompassed so many learning moments for our students," said Elizabeth Stanley, English teacher, Champion Middle School. It was exciting to be a part of the project and their creative process – it was beautiful to witness their building confidence through sharing the work they had done."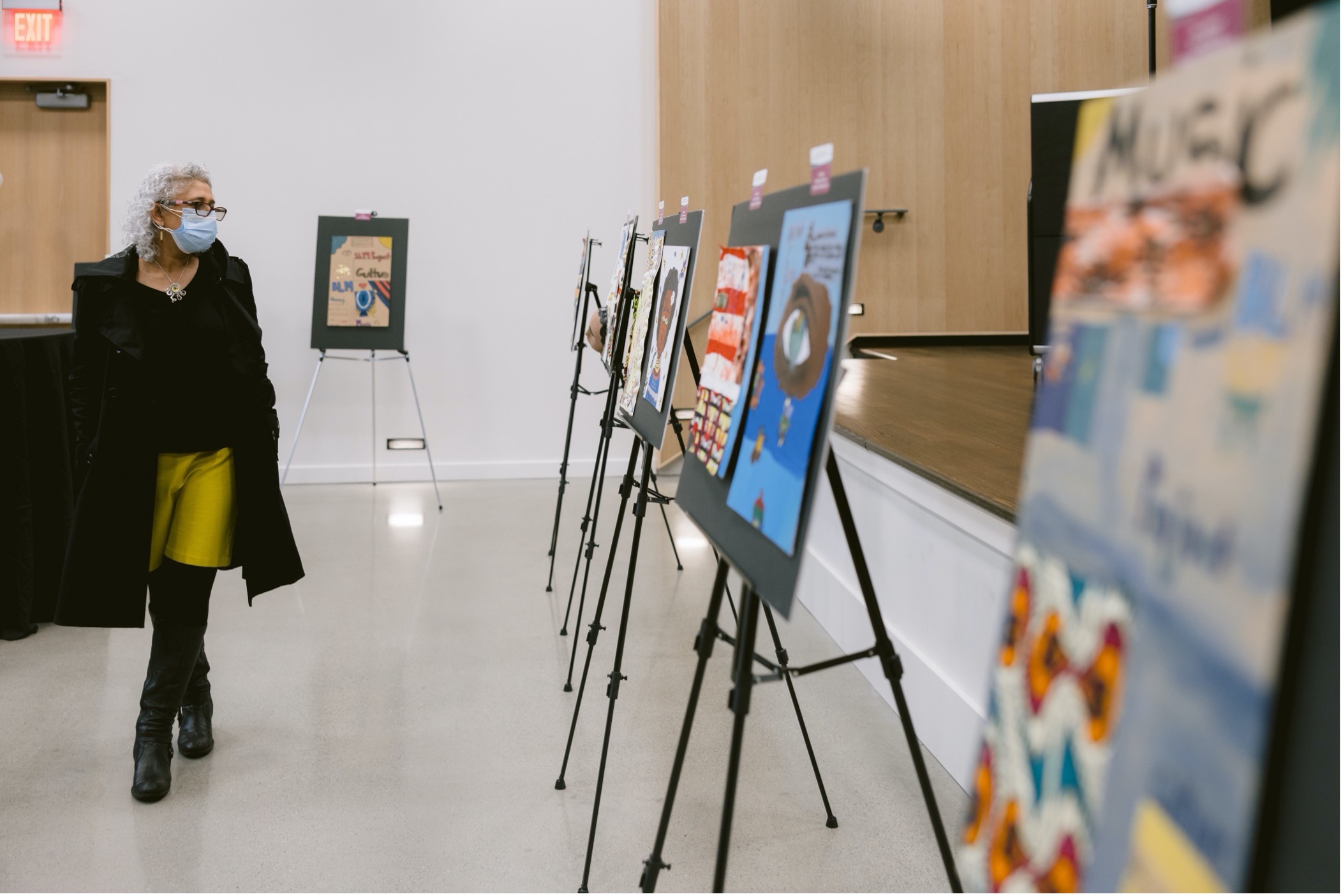 For more information on the Read Around Art Reception follow this link.
Experience EHE Week continued with the annual EHE Research Forum. Held at the Ohio Union, this yearly event highlights the research efforts of the college's faculty, graduate and undergraduate students, postdoctoral scholars and research scientists. The day was filled with presentations, including 18 posters, five panel discussions and 42 oral presentations.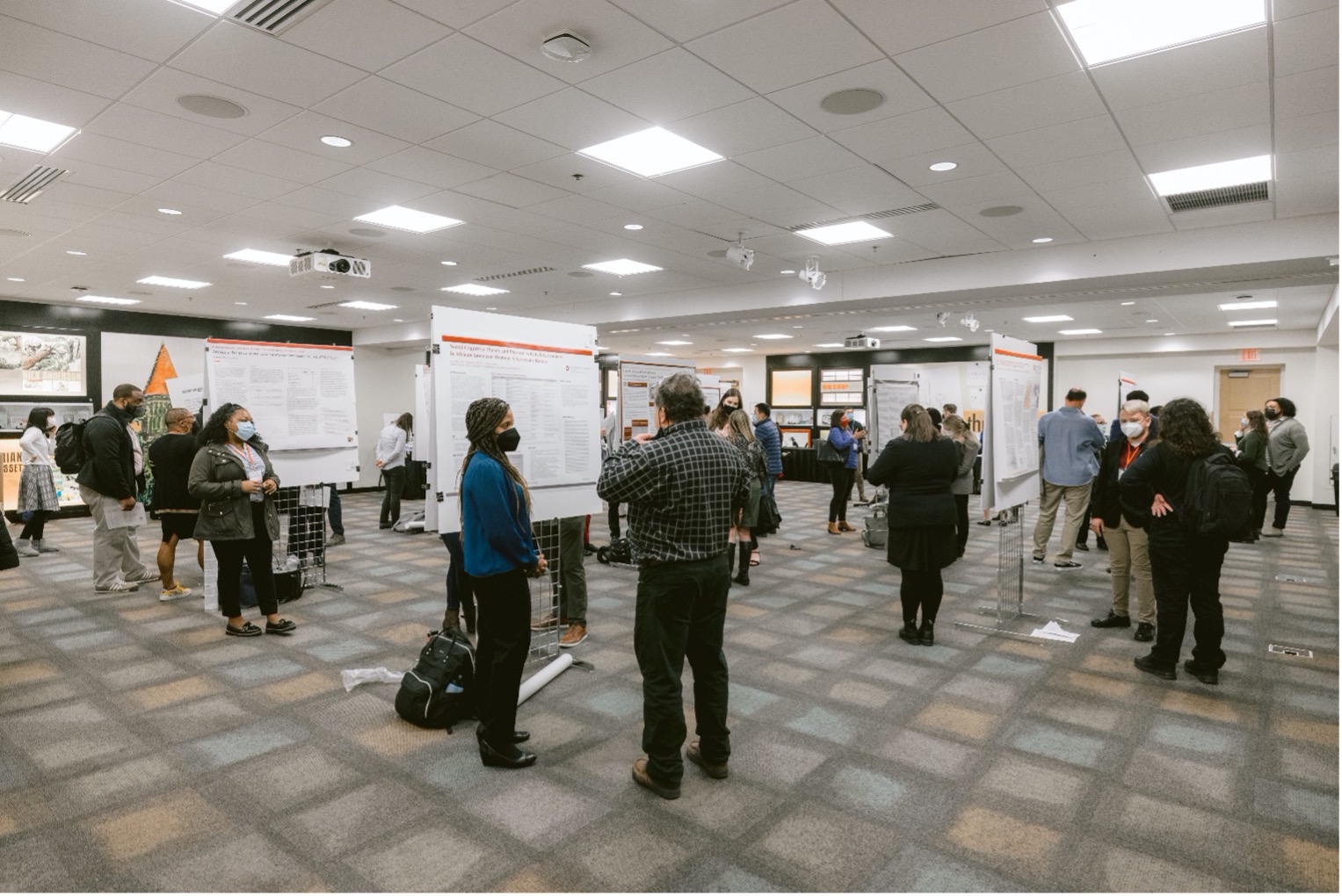 For more information on the Research Forum follow this link.
Experience EHE Week also served as host to potential candidates for the The Dean's Diversity Postdotoral Fellows program. Continuing its unprecedented move, especially for a single college within a flagship university, to groom postdocs of color to become top-performing faculty, the two-year fellowship created a pathway to the professoriate in the college — a "grow your own" model for hiring and retaining faculty of color. Since starting the fellowship in 2019, the eight postdoctoral scholars received more than $4 million in grant funding and authored more than 30 publications. The college hopes to welcome more candidates this upcoming academic year.
"When we first conceptualized this program, we knew what it could be. The success of the first cohort and continued excellence of applicants has exceeded our expectations." said Noelle Arnold, senior associate dean, professor, Educational Administration, Educational Studies.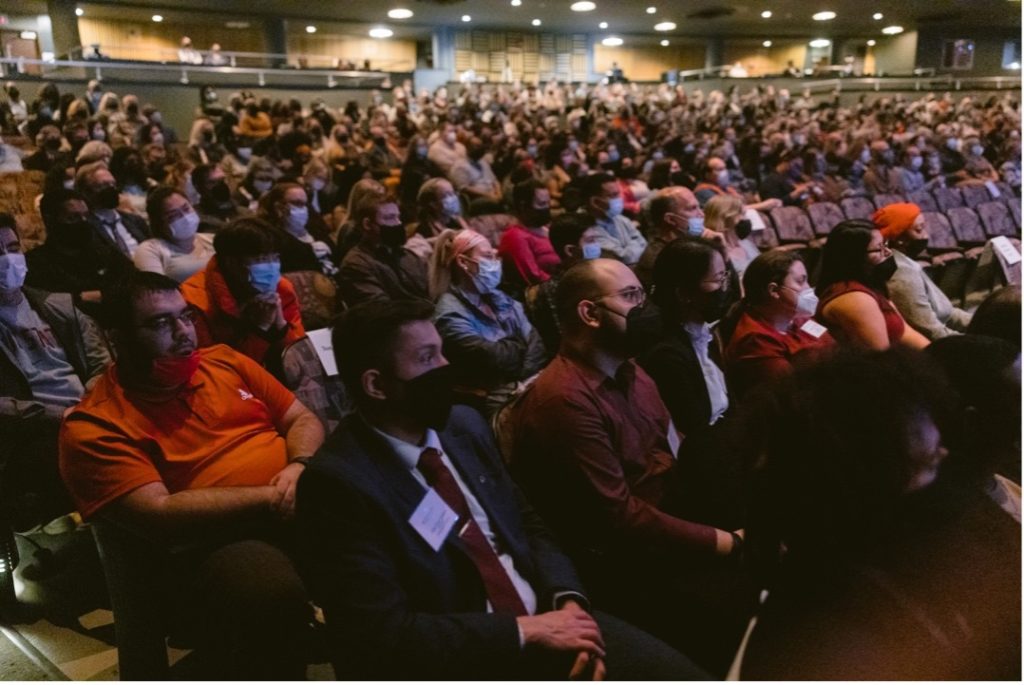 To round out events faculty and staff enjoyed camaraderie among colleagues via Zoom while making unique Columbus-themed art. A professional guided participants through the canvas painting step-by-step. All supplies were mailed to participants prior to the event.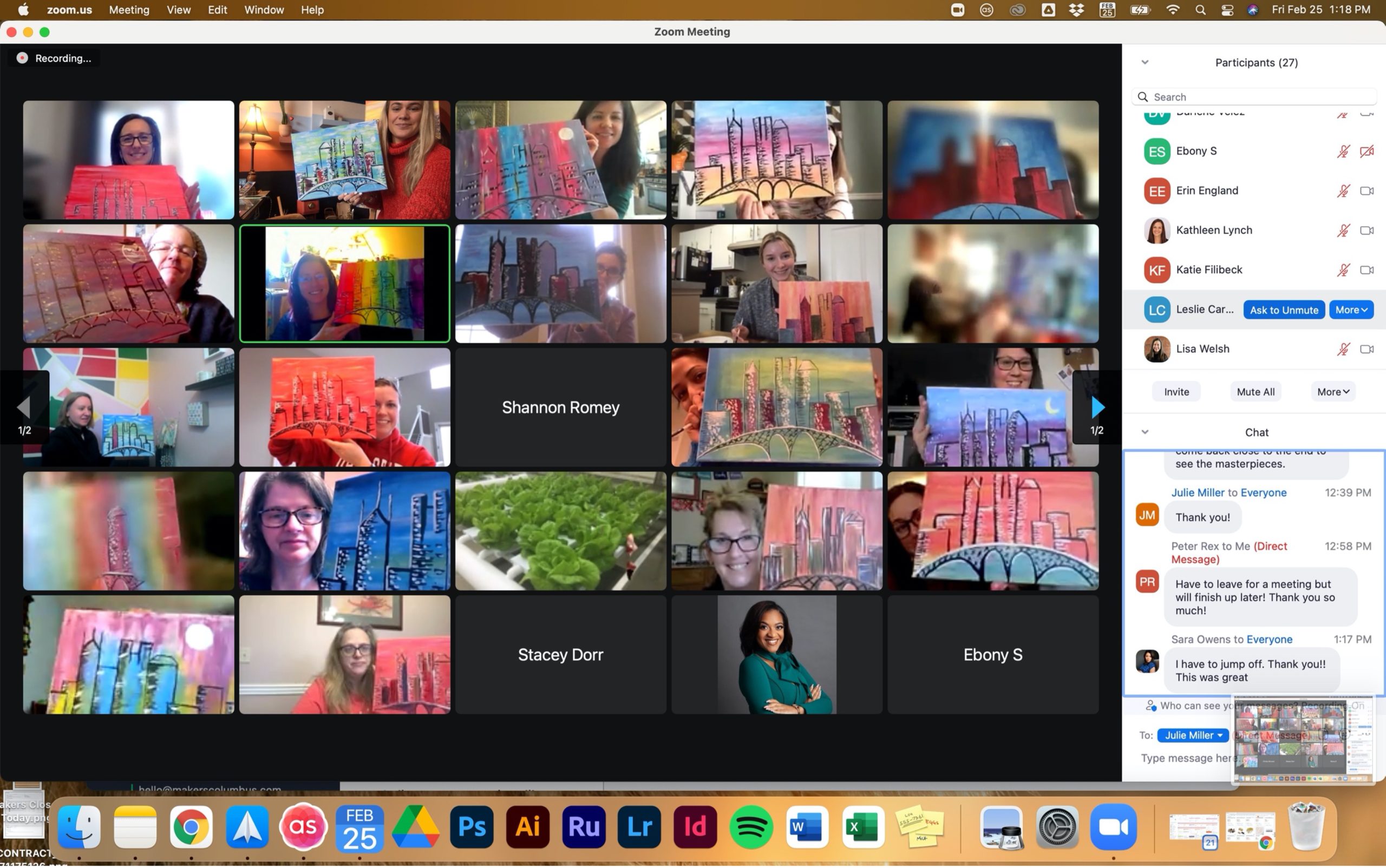 EHE staff and faculty also participate in an ongoing service project benefiting the College of Education and Human Ecology's A. Sophie Rogers School at the Schoenbaum Family Center. Throughout Experience EHE week faculty and staff rallied in support of the art supply drive for the center. "So far, the service project is coming along nicely. I've seen that we've gotten some donations from our faculty and staff, which is wonderful!" said Cameron Lindsey associate director, Operations, Crane Center for Early Childhood Research and Policy, Schoenbaum Family Center. "It is extremely important for young people to see themselves represented in all aspects of their lives and providing materials they can use to learn and grow with aids in that representation."